Monument of Koshkarbayev in Nur-Sultan.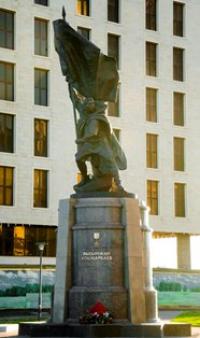 Tours during the holidays in Nur-Sultan.
"In life there is always a place for a feat, but there is not always a place for a hero"
Konstantin Kushner.
Tour from the city of Nur-Sultan to Lake Alakol.
The monument to Rakhimzhan Koshkarbaev in Astana was opened in October 2016, the author of the monument is the famous sculptor Askar Nartov, the height of the monument is 11 meters. For a long time, the feat of the great Kazakhstani was not recognized by Soviet historians.
Only in 2007 did the Russians officially declare that during the storming of the Reichstag in Berlin during World War II, the first banner was set by Rakhimzhan Koshkarbayev and Grigory Bulatov. Despite this, the Kazakh soldier was not awarded any awards of the Soviet army.
However, in 2001, by decree of the President of the Republic of Kazakhstan, he was posthumously awarded the title of "Khalyk Kagarmany". During the commission of a heroic act, Koshkarbaev was only 21 years old.
Authority:
Guidebook to Astana.