Monument of Bauyrzhan Momyshuly in Nur-Sultan.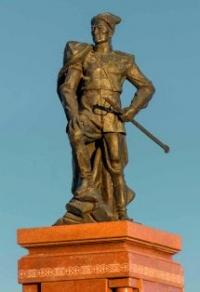 Guide to the cities of Kazakhstan.
"Whoever is timid by nature, he will not only not commit any brave deeds, but will also inspire fear in his comrades"
Thomas More, Utopia
Tourist maps of Kazakhstan.
The Bauyrzhan Momyshuly monument was unveiled on July 2, 2008. The authors of the monument are Temirkhaan Kolzhigit, Bakhytzhan Syzdykov. The monument is made of bronze. It is a gift to the city of Nur-Sultan Astana from the Zhambyl region, a native of which is a participant in the battle for Moscow.
The monument to the hero is a high pedestal, on which is a bronze figure of Baurzhan Momyshuly in full height, he stands with one hand resting on his knee, and with a saber in the other. The monument is located on Tokpanov Street next to the square.
Bauyrzhan Momyshuly participated in the Great Patriotic War in September 1941 as part of the 316th Infantry Division under the command of Major General Panfilov. For the courage shown in the battle of Moscow, he was introduced to the rank of Hero of the Soviet Union in 1942.
However, he was awarded the prize only posthumously on December 11, 1990. It was planned that in connection with the preparations for the celebration of the 70th anniversary of the Victory in the Great Patriotic War in 2015, the transfer of the existing monument to Bauyrzhan Momyshuly to the square.
Authority:
"Guide to Astana and Akmola region."