Monument for Aliya Moldagulova in Nur-Sultan.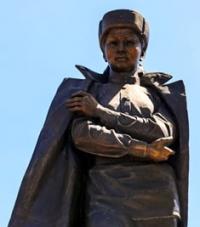 Nur-Sultan in Kazakhstan.
"Valor is the property of those striving for a lofty goal"
What to see in Nur-Sultan.
Aliya Moldagulova memorial complex in the city of Nur-Sultan - the sculpture is a copy of the author's work of Almaty sculptors Bakhyt Abishev and Yesken Sergebaev.
The monument to World War II sniper Aliya Moldagulova was erected in 2008 at the intersection of Zhenis Avenue and Aliya Moldagulova Street, near the Agrarian University in Nur Sultan. The monument weighs about three tons, height 3.8 meters.
The memorial composition is made of bronze, granite and concrete, 12 fountains are installed in front of the complex. The memorial complex consists of a sculpture of a young girl in a tunic and a bas-relief that depicts the history of Kazakhstan, starting from ancient times and ending with real events.
The sculpture was made in the city of Nur-Sultan, a bas-relief in the district center, the city of Talgar, Almaty region. The monument is a gift from the Aktobe region, worth about 1,500,000 tenge. A copy of such a monument is located in Aktobe.
Authority:
Alexander Petrov.