Monument of Abay in Nur Sultan.
The best sights in Nur-Sultan.
"Love a man, Be his friend, be fair. "The essence of man is love, justice and sincerity. People can not do without these principles. There is simply no case in life when neither they participated and did not predetermine this or that human fate"
The moral code of Abay "Adam Bol" - "Be a man."
Excursion tours to monuments of Nur-Sultan.
The monument of Abay Kunanbayev is located in the city of Nur-Sultan on the corner of Abay Street and Republic Avenue, opposite the capital akimat and the Ministry of Tourism and Sports of the Republic of Kazakhstan.
The monument was installed near the Central Square in the old part of the city of Nur Sultan. The pedestal of the monument is 7 meters high, the height of the sculpture is 7.5 meters. Earlier, Abay Avenue bore the name of Lenin.
The monument to Abai is located at the place where in Soviet times there was a bronze monument to V.I. Lenin, in the 90s of the last century, he was dismantled. Just over 10 years after the dismantling of the monument to V.I. Lenin's place was empty.
The initiator of the opening of the monument to Abay Kunanbayev was a group of deputies of the capital's maslikhat who appealed to the akim of the city I. Tasmagambetov. At the beginning of the year, a competition was held for the sketch of the monument.
The winner of the competition was announced on January 14, 2010, it was the Almaty sculptor Bolat Doszhanov. The opening ceremony of the monument to the great Kazakh poet and thinker Abay Kunanbaev took place on June 19, 2010 in Astana.
Three steps lead to the pedestal, oli-representing a segment of the steppe road. The figure of Abai, a lone traveler on her, expresses deep thoughtfulness and concentration. Abay Kunanbaev (1845 - 1904) - a brilliant Kazakh poet, thinker, founder of the new Kazakh literary writing, composer.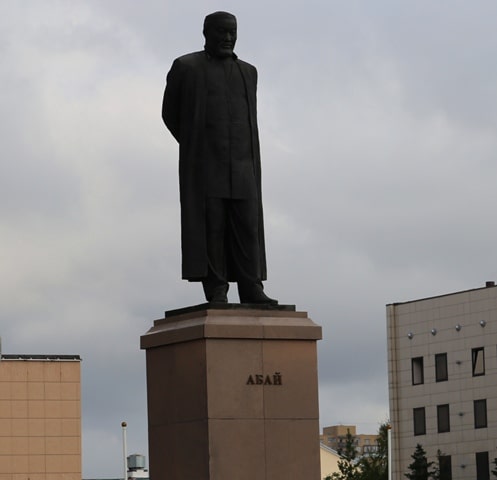 Authority and photos
Alexander Petrov.