Leopards entrance to Nur Sultan.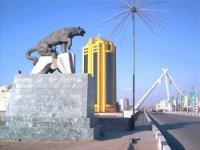 Guide to Central Asia.
"Lions are at home, foxes are outside"
Trip from Nur-Sultan to Atbasar.
Sculptures of "Leopards" were opened in the year of the official presentation of the capital - in 1998. "Leopards" are installed at the entrance to the city on high pedestals, on a bridge over the Ishim River. It is as if they are opening the gates of the city to everyone who, with good intentions, enters it and at the same time guarding the city, ready to instantly fight the enemy.
The very idea of ​​creating "Leopards" with an overview of the embankment resembles a European interpretation of exotic oriental rarities. Bars is a symbol of Kazakhstan, looking to the future. He gives us strength, confidence in all our undertakings.
Authority:
T. Dosmagambetov.