Jar with coins in Nur-Sultan.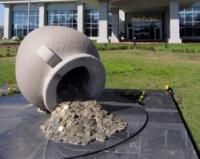 Travel to the city of Nur-Sultan.
"Two people worked fruitlessly and tried without profit: the one who accumulated wealth and did not use it, and the one who studied science, but did not use it"
Rumi Jalaleddin.
Weekend tours to the city of Nur-Sultan.
The sculpture "Jug with coins" is a creation of the modern sculptor Nurbosyn Orysula, which appeared in 2008 in the very center of the city of Nur Sultan.
An unusual monument in the form of a granite jug, from which ancient coins belonging to different eras pour out, symbolizes not only the wealth of the country, but also numerous archaeological finds found by archaeological scientists in Kazakhstan.
The sculpture is located on the flowerbed at the central entrance to the fashionable Rixos Astana Hotel.
Authority:
http://reactor.inform.kz/samye-interesnye-pamyatniki-astany-a3656