Gymnasia of XIX century in Nur-Sultan.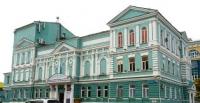 Family tours in the cities of Kazakhstan.
"The architectural appearance of the building, which makes us feel appropriate to its purpose, this is the style"
Stendhal.
Tours from the city of Nur-Sultan to Taldykorgan.
In 1899, the city government of Akmola and the merchant-patron S.A. Kubrin allocated 100 rubles to buy a building for the theater. And finally, the theater received official status and its own home. In 1899, the first permanent troupe was created.
The first director of the theater was Mr. Moiseyev, political exile, actor of the imperial theater of the city of Semipalatinsk. The first theatrical season opened with a vaudeville in one act "Flash at the hearth" of the writer Fedorov.
In 1913, the Tatar troupe of G. Aubakirov began to work here. This year, in honor of the 300th anniversary of the reign of the Romanovs, the troupe staged the play "Life for the Tsar. Ivan Susanin." According to the famous theater expert B. Kundakbaev, in 1918 S. Seifullin staged the play "Bakyt Zholynda" and other productions on the stage by the forces of Kazakh youth.
In the Soviet years, the third floor was built on, the stage roof of the left wing was built, a palace box on the roof of the left wing, extensions to the left wing and facade were made. Due to the war in 1942, the theater was dissolved.
In May of the same year, the Voroshilov Russian Drama Theater arrived in Akmola by train. The local troupe became part of it. Thus, the theater reappeared in the city. A year later, Voroshilov left, half of the artists remained in Akmola.
Then they were joined by actors from among the women captives of ALZHIR. On the basis of this troupe I, in 1943, the Regional Musical Drama Theater was created, consisting of Kazakh and Russian branches.
The Russian was headed by the Lugansk Olympics, and the Kazakh was led by the 3rd Hypnal Tnalin, then Sakypzhamal Gizatulin. Soon, according to the decision of the Council of Ministers on the closure of small theaters, the question arose about their continued existence.
But the artists found a way out and created the Atbasar District Collective Farm and Farm Agricultural Theater. He was led by Tzalina Aguipa, and Sakypzhamal Gizatulina became the first assistant. In 1955 it was closed.
On September 10, 1955, the Ministry of Culture of the Kazakh SSR issued an order to open the Akmola Regional Drama Theater. The main director was elected Eugene Orel. In 1959, the theater was named after Maxim Gorky.
Authority:
https://direkt-15.kz/ru/pamyatniki-i-ob-ekty/pamyatniki-istorii-i-arkhitektury/gimnaziya-konets-xixv-akademicheskij-russkij-teatr-dramy-im-m-gorkogo