Gorky Theater in Nur-Sultan.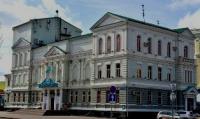 Theaters in Nur-Sultan.
"The director's work is incompatible with the acting: the actor will fail if he will critically look at his partners"
George Bernard Shaw.
Religious holidays of Kazakhstan
In Nur-Sultan, a fairly young city, there is a rather old theater, founded back in 1899 - the Gorky Russian Drama Theater. For more than a century of history, he managed to experience the joy of victories and the bitterness of defeat, changed buildings, troupe and directors.
And today it is one of the largest and most popular theaters not only in Astana, but also in Central Asia. Now more than 20 performances based on the works of Shakespeare, Chekhov, Gogol, Cocteau, Mrozhek and others are staged on his stage.
It has become a good tradition to educate the beautiful among the young generation: 12 musical fairy tales are presented for young art lovers. In addition, the troupe of actors of the Russian Drama Theater regularly goes on tour and takes part in major theater festivals.
Over 110 years of its existence, hundreds of performances dedicated to various topics and eras have been staged here, but the ideas of the theater have always been directed to the present. He continues to instill in people a sense of beauty, making them cry and laugh, love and hate. Such is he, the Gorky Russian Drama Theater - the oldest Nur-Sultan theater.
Authority:
Guidebook of Astana.