Former Muslim school in Nur-Sultan.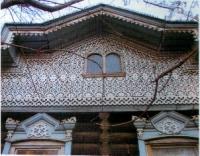 Nur-Sultan - a guide sights.
"Postum! Postum!
Pour, glide years!
What prayer will we give away the coming of wrinkles and the coming age
And mortal death? "
Horace (Quintus Horace Flaccus.)
Nature guide of Akmola region.
The building is located in the center of the city, not far from the intersection of Abay Street and Republic Avenue. The history of the monument is related to the education, in the beginning of the 20th century the first Muslim school of Akmolinsk was located there.
The Kyrgyz-Tatar elementary school functioned in madrasah since 1907, where 27 pupils studied. Later, the school was reformed to a 7-grade school. Boys studied in building No.31 and girls in building No. 29. Distinguished poet, writer and public person S. Seifullin taught in this school in 1912. T
oday, both buildings are used as production facilities of the Kazakh Drama Theatre named after K. Kuanyshbayev, which was founded in 1991. The monument represents a provincial structure being one of the peculiar patterns of wooden architecture of the end of XIXth century – beginning of XXth century. It is a residential house in the shape of a timber blocking imitating a Russian log hut. The magnificent fret wooden décor harmonically adorns architraves, arching, cornices and the central part of the carved fronton with doubled decorative dormer window.
The Former Muslim school is a monument of the Republican significance.
Kalibek Kuanyshbayev (1893 - 1968) is one of the founders of the Kazakh theatre, People's Artist of the USSR (1959), a laureate of the USSR State Award (1952).
Kalibek Kuanyshbayev was born in Karakopa aul, now Karakalinsk district of the Karaganda Region. In 1916 he was mobilized to the construction of defensive structures in immediate battle area of Belarus, in 1917 he returned to his native aul; he worked in Omsk at the tannery, then as an overlander.
After the October revolution he headed Karakopinsk aul board. During this period K. Kuanyshbayev arranged an amateur drama club, participated in plays, composed satirical stories. In 1921 - 1925 he was in the troupe of amateur artists, which acted at the Koyandinskaya trade fair, in 1926 he was one of the organizers of the Kazakh Drama Theatre in Kyzylorda city.
In 1927 he appeared on the stage of the ethnographic concert in Moscow. Starting from 1928 to 1964 he was an actor of the Kazakh Drama Theatre named after M.O. Auezov, where he played leading roles. He simultaneously filmed, dealt with educational work, and was the author of short sketches, plays and humoresques.
In the theatre Kalibek Kuanyshbayev played about half a hundred roles. He was an all-round performer, achieved equal success in any role. The actor is awarded with two Orders of Lenin, Order of the Red Banner of Labor and the Order of Honor as well as with medals.
Kazakh Drama Theatre in the capital of Kazakhstan, Astana city, is named after him.
Authority and photos:
http://direkt-15.kz/arxitektura/byivshaya-musulmanskaya-shkola-konecz-xix-v.,-gorod-astana,-ul.-otyira.html