Cinema October in Nur-Sultan.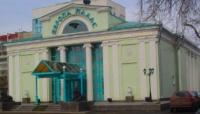 Excursion trips to the cities of Kazakhstan.
"An architect builds, taking into account not only the principles of convenience. The construction should be impressive in its beauty and absolutely harmonious. Harmony is what underlies all forms of art throughout human history."
Ivan Vladislavovich Zholtovsky.
Tours from the city of Nur-Sultan to Lake Markakol.
The building was built at the beginning of the twentieth century. From the moment of construction until the end of the 90s of the XX century it was used as a cultural and leisure center. The first cinema theater (cinema) appeared in Akmolinsk in 1910.
The cinema was called "Meteor" and was built by merchants A.I. Skvortsov and D.V. Egorov. After the fire that destroyed the Meteor cinema in 1913, the Egorov brothers built a new one, known as Progress. During the period of economic and cultural boom, several cinemas functioned in the city.
The most famous were "October" (the modern building of the Ak-sunkar hotel), "Rodina" (located in the area of ​​the modern building of the Kogress Hall), "Builder" (Agrogorodka district, now the foam plastic factory is located in the building), "Sholpan" (located on modern Koshkarbayev street, in the area of ​​Asem shopping center).
In 2000, the "Oktyabr" cinema underwent reconstruction, the building and the restaurant and hotel "Europa Palace", whose modern name is "Ak-Sunkar", began to be located in the building. In front of the hotel there is a monument to the Kazakh national akyn and composer Zhayau Musa Baizhanuly.
As a result of reconstruction in 2000, the original appearance of facades and interiors was changed. Additional details appeared: a modern visor and stone lions at the main entrance. In the former auditorium, instead of two floor levels, three were made, where the booths were located in the form of theater boxes for 6 to 8 people with a view of the stage.
Authority:
https://direkt-15.kz/ru/pamyatniki-i-ob-ekty/pamyatniki-istorii-i-arkhitektury/zdanie-kinoteatra-oktyabr-restoranno-gostinichnyj-kompleks-ak-sunkar-nachalo-khkh-v
Photos
Alexander Petrov.