Canyon Aktogay on Charyn.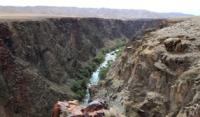 Hillwalking in Kazakhstan.
«A lake is the landscape's most beautiful and expressive feature. It is earth's eye; looking into which the beholder measures the depth of his own nature»
Henry David Thoreau.
Genealogy tourism in Kazakhstan.
The canyon of Aktogay (The white wood) on the river Charyn is in the territory of Enbekshikazakh district of Almaty region in the east from Almaty. Distance from Almaty to a canyon of Aktogay 204 kilometers. Below the Bestobinsky reservoir and Moynak hydroelectric power station the river Charyn flows on a deep canyon.
In this place it divides ridges Ketmen in Kuluktau spur in the east and the ridge Kungey Alatau in the West. Then the river crosses from the South on the northeast Zhalanash and Sogety valleys and the ridge Toraygyr dividing these valleys bends around from the East.
The river Charyn throughout strongly winds and the channel is divided in the floodplain into slightly equivalent. Charyn accepts a set of inflows from a northern slope of the ridges Terskey and Kungey Alatau and becomes the deep river Toraygyr a grandiose canyon divides east parts of the Zhalanash hollow and mountains.
In the Zhalanash valley, the canyon gets a trapezoid form. In this place the canyon is called Aktogay (The white wood). In east part of the ridge Toraygyr Charyn forms a narrow, deep canyon - Kurtogay (The sepulchral wood).
The canyon was stretched before merge to the river Temirlik. Its extent makes 24 km.
Authority:
http://almatyregion-tour.kz
Photos
Alexander Petrov.