Building of city council in Nur-Sultan.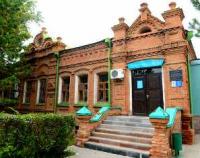 Memorable places in cities of Kazakhstan.
"What a magnificent mansion! That is what the Lord God would have lived in if he had money."
Alexander Walcott.
Tours from city of Nur-Sultan to Aktau.
The building of the city's administrative board the end of the XIX century, Zheltoksan Street, 11. The administrative building of Gorky Russian Drama Theatre, the original building of the city's administrative board is located in the center of the city's historic part, in Zheltoksan Street.
One-storey house with a L-shaped basement in plan, was built in 90-ies of the XIX century, TS.1YA of the city's administrative board, became the first administrative building in the city. The administrative board has an important political, social and economic significance in the life of the city.
The management of all the affairs of Akmolinsk was carried out from here. In 1894, elections were held in the City Duma of Akmolinsk. In April 15, 1874 public (deputies) elected members of the city's administrative board.
Dmitry Lvovich Filatov was selected as the city's mayor. By the early in the twentieth century thanks to the efforts of the municipal government in Akmolinsk there was a municipal hospital, three male and two female parish colleges, Mariinsky women's college, higher primary male school.
The merchant Stepan Andrianovich Kubrin occupied a position of the last mayor. After the February Revolution and the transfer of power to the Interim Government, members of the city's administrative board formed district Executive Committee in Akmolinsk, but it lasted not long.
The Initiative Bolshevik group led by T.I.Bochok formed Akmolinsky municipal Soviet of deputies in December 27, 1917, at the first provincial congress of workers, peasants, soldiers and Mussulmen-deputies in March 2, 1918 it was elected Akmolinsky district Soviet of deputies and decided to establish the single Soviet power in the county.
After closing of the congress, its participants went to the city's administrative board and solemnly cut down the pole with a double eagle standing in front of the building.  In 1919, in the building there was staff headquarters of the 59-th Infantry Division, the Division Commander was K.I.Kalnin.
Then, in different years there were municipal and regional libraries. The building reconstruction was carried out in 2003. The initial appearance has been in generally preserved. The main entrance is decorated with a logo.
Authority:
https://direkt-15.kz/en/pamyatniki-i-ob-ekty/pamyatniki-istorii-i-arkhitektury/zdanie-gorodskoj-upravy-konets-xix-v